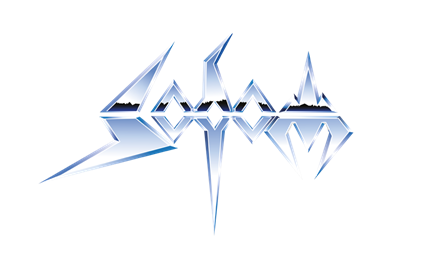 « M-16 »
The 20th Anniversary Edition
of the Anti-War Album
Disponible en :
Coffret 4 vinyles Deluxe,
Double Vinyle,
CD mediabook & digital
Sortie le 26 Novembre 2021 sur BMG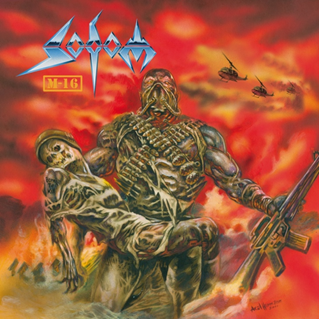 https://sodomofficial.lnk.to/M-16PR
Ecoutez « Remember the Fallen »  
(Live Wacken 2001)
Entièrement remastérisé, cet album emblématique de la scène thrash allemande 
présentera 2 titres bonus live, enregistrés en 2001 au Wacken Open Air.
Outre la version anniversaire de l'album, le coffret édition Deluxe
présentera un double vinyle « bootleg » avec les titres suivants:
face A – Live Wacken 2001: Agent Orange * Code Red  * Der Wachturm * M-16
face B – Live Tokyo 2002 : Among The Weirdcong * The Vice Of Killing * Eat Me
face C – Live Bang Your Head 2003 : The Saw Is the Law * Outbreak Of Evil * Bombenhagel
face D – Live Bangkok 2002: I Am The War * Masquerade In Blood * Sodomized
Les autres « munitions » de ce coffret seront :
– une clé USB en forme de cartouche de fusil contenant toutes les chansons
– un badge d'identification militaire « Sodom »
– un poster représentant l'illustration de la pochette
– un livret de 44 pages contenant des photos rares et des liner notes signées Tom Angelripper.
Ce livret présente aussi des documents issues des archives du journaliste Manni Eisenblätter (ex-Metal Hammer).
En plus d'innombrables photos inédites, il revient sur le voyage promo à l'occasion duquel Sodom s'est rendu
en Thaïlande et au Sud-Vietnam, là même où s'était déroulée cette guerre qui a inspiré l'album…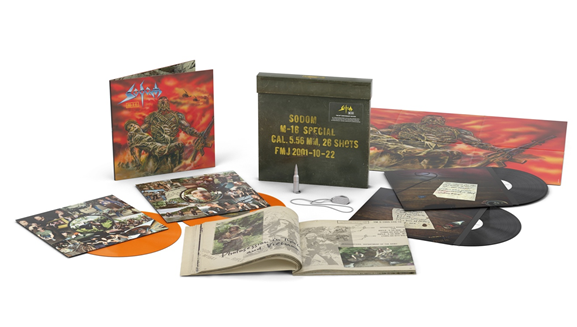 2001
,
2020
,
20e
,
acheter
,
album
,
anniversaire
,
anti war
,
Band
,
groupe
,
prix
,
réserver
,
sodom
,
spéciale édition
,
Tom Angelripper
,
wacken